Key West Travel Guide Is Against Dredging for Cruise Ships
There is already too much pressure on our eco-system and quality of life to accommodate bigger and more ships. Enough is enough!
"Unless someone like you cares a whole awful lot,
Nothing is going to get better. It's not."

-Dr. Seuss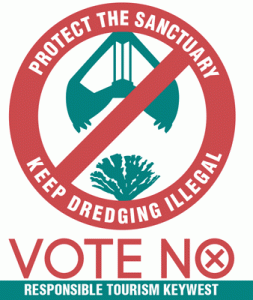 Key West Travel Guide wants to make it abundantly clear: we are against dredging in the Florida Keys to accommodate larger and more cruise ships.
For too long, Key West has thoughtlessly welcomed an ever increasing number of cruise ships to our port, ignoring damage they do to the fragile eco-system and the quality of life for its residents and visitors. And all of it has been for the benefit of a few businesses that have been poor stewards of our environment. Today those businesses are actively "green washing" their image, but don't be fooled: larger and more cruise ships is NOT the right thing to do for our coral reef, our quality of life, and our future.
Now is time for change.
Key West is currently debating whether to support funding a study about the feasibility of dredging to accommodate the next generation of cruise ships: ever larger and with even greater numbers of passengers.
This shouldn't even be up for debate.
Dredging in the Florida Keys National Marine Sanctuary is not permitted and would require an exemption from congress.
And in response to overwhelming pressure from Key West residents, in 2011 the Key West City Commission overwhelmingly voted against funding the channel widening study.
But it is up for debate, and the local chamber of commerce has organized a political action committee (PAC) in support of gouging a wider channel.
Fortunately, many local residents are fighting this with their own PAC, known as the Key West Committee for Responsible Tourism.
This election day, Key West residents will vote on a poorly-worded referendum which will decide if the dredging study should be carried out.
Key West Travel Guide is against this study, along with many other local businesses and organizations.
If you want to support this effort, here is what you can do to help us stop this madness:
1) visit the Key West Committee for Responsible Tourism website and donate.
2) send an email to Key West's city commissioners and mayor and let them know what you think of dredging in the Florida Keys National Marine Sanctuary
Here are their email addresses:
District 1 – Jimmy Weekly moc.ytictsewyek@yelkeewj
District 2 – Mark Rossi moc.ytictsewyek@issorm
District 3 – Billy Wardlow moc.ytictsewyek@woldrawb
District 4 – Tony Yaniz moc.ytictsewyek@zinayt
District 5 – Teri Johnston moc.ytictsewyek@notsnhojt
District 6 – Clayton Lopez moc.ytictsewyek@zepolc
Mayor Craig Cates moc.ytictsewyek@setacc
3) write a letter to the editor of the Key West Citizen newspaper at moc.swensyek@lleutt
If they publish your letter, it will give Key West residents an opportunity to hear what visitors think about dredging for cruise ships.
#KeyWest #KeyWestFlorida #KeyWestFL